SAP calculations & Energy Performance Certificates
A SAP rating is the calculation that is required in order to produce a Predicted Energy Assessment and an On Construction Energy Performance Certificate. Building Regulations require that a SAP calculation and a Predicted EPC is submitted for new dwellings prior to the commencement of work.
An SAP costs between £120-£150 plus VAT, a SAP EPC is £60 plus VAT.
---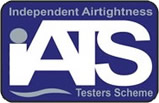 Member of the Independent Airtightness Testers Scheme
Membership no. 0032
We offer Air Tightness Testing from £150 per site visit plus £50 for each test (plus VAT).