Air Tightness Testing from £200 plus VAT
Air Tightness Testing
We carry out 'Air Tightness Testing' to new Buildings to comply with Part L1a of the Building Regulations. This is a complex process which gives a very accurate measure of air loss from a property.
The Air Flow through the property is constantly measured to assess the air tightness, allowing a measured amount of ventilation to be provided to each property and reducing the thermal losses.
For a site visit £150, for each test carried out there is an extra £50 plus VAT. We'd be happy to quote discounts for larger contracts.
---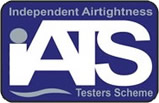 Member of the Independent Airtightness Testers Scheme
Membership no. 0032
We offer Air Tightness Testing from £150 per site visit plus £50 for each test (plus VAT).