Draught Testing & Draught Proofing
Using the Door Blower Fan, we pressure test existing housing to quickly pin point draught points and to find difficult to locate draughts with thermal imaging.
We offer an extractor flow rate measurement service and commissioning of MVHR units carried out by our BPEC qualified engineers.
Once found, we draught-proof the property using draught strips, sealant strips and insulating materials.
The end product is a draught free, more comfortable living environment and money saved on wasted heat!
---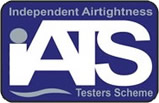 Member of the Independent Airtightness Testers Scheme
Membership no. 0032
We offer Air Tightness Testing from £150 per site visit plus £50 for each test (plus VAT).